STARTING OUT COURSES
CAREER GUIDANCE
Starting out in the super yacht industry is an exciting and rewarding choice of employment. Some choose to use the experience as a gap year while many others follow it as a long term and extremely rewarding career path.
The MCA set the world standards which are followed by numerous other countries.The industry provides safe and rewarding employment for young persons.
What do I need to qualify to work in this rewarding industry?
You will need to:
Read More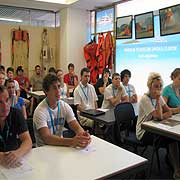 ADVANCED COURSES
DECK OFFICER TRAINING
PYT is your first choice MCA approved training provider.
PYT is recognised by the industry as a world class super yacht crew training academy. The savings on most of our course modules will more than cover your traveling costs to South Africa.
We offer the most for your dollar in the world of super yacht training. Our course schedule is designed to be flexible to suit super yacht crew.
Let us kick start your steps up the ladder of command.
Read More