Captain David Pott
May 21 2015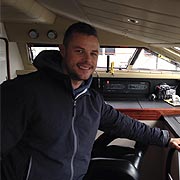 David Pott, founder of South African Yachties is now CAPTAIN David Pott!! We couldn't be prouder!! Let us use our years of experience to help you answer all your yachting related questions. www.southafricanyachties.co.za
Posted by Roxanne Oschman
Schengen Visa!!!
May 21 2015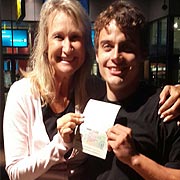 5 Year Schengen done and dusted! No more hassles with visas...B1B2 next whoop whoop!!! Contact Jaquie 0837773275
Posted by Roxanne Oschman
Jobs Available - Sea Quests
April 23 2015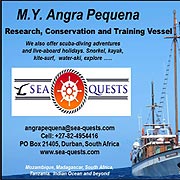 Looking for a hostess/cook/stewardess for an up-coming short cruise, and other cruises later in the year – for our 72ft expedition vessel that is used for conservation research cruises and discovery expeditions. They would need to be/have: 1. Presentable and friendly, able to act as a hostess 2. Willing to clean cabins, make beds, dishes etc 3. STCW qualified 4. Cooking skills or basic cooking qualification 5. Have some experience at sea (i.e. does not get seasick, etc) 6. Has a valid passport (we are a foreign registered vessel and going to Mozambique) 7. Positive attitude and practical We need to find our Stewardess urgently – as we are leaving port (Durban) on 27th April! Email: angrapequena@sea-quests.com Cell: +27-82-4954416
Posted by Roxanne Oschman
Looking for a Y4 Yacht Engineer
April 01 2015
We are actively looking for a Y4 yacht engineer, for a second engineer position. We are a 60 meter sailing yacht, does not have to have a sailing background but it does help if so. Being a sail yacht the second engineer does have to help out on the deck side of operations during charters etc. We are also a relatively young crew so please keep that in mind,. Itinerary- heading back to the Med around the 10th April from the Caribbean small yard warranty period, Med Season another warranty period, short Caribbean season and then Around the world trip. Please forward C.V's. to firstmate@syseahawk.com We do need the right candidate to start fairly immediately.
Posted by Roxanne Oschman
Looking for a 3rd Engineer!!!
April 01 2015
Looking for a 3rd engineer for a 67m Explorer yacht, and the pick up location is in Cape Town. The Captain is looking for 3rd Engineer with a Y4 or similar, and who is good at fault finding and problem solving. Must have good knowledge and be able to take care of the ships tenders, jet skis, etc. both mechanically and electrically along with being part of the engineering team, engine watches and an all-rounder. Please send you CV to Samantha on samantha@southafricanyachties.co.za
Posted by Roxanne Oschman
A look into the fire fighting classroom
March 10 2015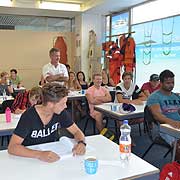 Piet Meyer, one of PYT's Fire Fighting lecturers pictured standing in the middle of the classroom informing the students on what to expect in their practical. The Fire Prevention and Fire Fighting course is delivered over a 3 day period. It includes theory and practical elements as well as an examination. Fires are any crew members' worst nightmare. Your immediate reaction can save lives as well as the vessel. You will learn the theory of fire, fight fires with hoses and extinguishers, become a member of a fire fighting team and rescue "fellow crew members" in the dark using breathing apparatus. These are important skills and must be acquired by every crew member. Competence is shown in both theory and practical sessions.
Posted by Roxanne Oschman
What parts of the world are the best locations to look for work?
March 10 2015
The northern hemisphere has the vast majority of the large private yachts and charter boats. About 80% of these are concentrated in the Caribbean, Miami, and Fort Lauderdale area but there is no shortage of opportunities in the likes of the Mediterranean and Whitsunday's with Alaska having experienced a recent boom in boating activity. The industry in general is going through a period of very rapid growth with seasons determined by summer, winter, hurricanes and weather in general. Career yacht crew often move between the Med and Caribbean according to the season, or work on off-season maintenance tasks or simply go on holiday and tour a little. The most common language spoken is English but fluency in languages like French, Spanish and German can only be an advantage especially in Europe. Look out on our website under FAQ's for more information.
Posted by Roxanne Oschman
DECKHAND NEEDED!!!
January 19 2015
Looking for a young, energetic deckhand to join a crew of 5 for a 30m yacht based in the Red Sea. The candidate should be water sports and fishing orientated. The position is live ashore with all expenses paid, medical insurance, 2 weeks paid training per annum, $2200 per month. The yacht is part of a fleet of 4 yachts so there will be travel to the other vessels when required and good opportunity for advancement within the company. STCW minimum requirement with powerboat or YM offshore an advantage. IMMEDIATE START!!!! Capt. Dave Matthie dave@professionalyachtcaptain.com +20 1227629666 www.professionalyachtcaptain.com
Posted by Roxanne Oschman
PYT Ladies looking rather SWAG!
December 15 2014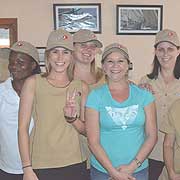 New marketing stock arrived at PYT yesterday (PYT Caps). We thought it would be a perfect opportunity for all of us to capture this fun moment. Thanks to Allen for tacking the picture.
If you would like to purchase one of PYT's peaked caps for R75:00 please email Roxanne at marketing@pyt.co.za
Posted by Roxanne Oschman
2015 Course Updates
December 15 2014
STCW 2010: 2 - 11 March 2015
4 Week Deck Hand: 2 - 27 February 2015
3 Week Stewardess: 13 April - 1 May 2015
To BOOK your course please email Ronelle on info@pyt.co.za
Posted by Roxanne Oschman