2014 Course Updates
January 07 2014
Hey Guys and Girls. Please check out the next available course dates. STCW 2010: 7-16 April. 4 Week Deck Hand: 7 April -2 May. MoY 200t Limited: 3-21 February/ 3-21 March. MoY 200t Unlimited: 27 January-1 February/ 24-29 March. Medical First Aid: 3-5th February/ 31 March-2 April. OOW: 28 April - 14 June. Master 500t/3000t: 10 February-14 March. For more information to book please email Ronelle at info@pyt.co.za.
Posted by Roxanne Oschman
Crew4Crew position
January 07 2014
Individual or Team position available for 1st Mate and 2nd Stew on 40m, private use, non-US flagged based in South Florida. 1st Mate must have Yachtmaster, experience on 40m + and minimum of 2 years white boat experience. Experience with MCA/ABS required. Must be a self motivator able to give direction to a team and be well organized. Good Opportunity for bosun with strong experience to move into mate's position. A strong swimmer and PADI diver is a plus. To apply for this position, please go to www.crew4crew.net and search for job ID 3368.
Posted by Roxanne Oschman
Crew wanted!
January 07 2014
Hey Guys and Girls, I found this AWESOME website called Crew4Crew, which offers commission-free online yacht crew placement and a wide rage of job opportunities world-wide. Current online job listings accessible 24/7. Go visit their website on www.crew4crew.net and login. Also you can find their facebook page on Crew4Crew. Good Luck
Posted by Roxanne Oschman
Jackie At Crewing The Med.
January 07 2014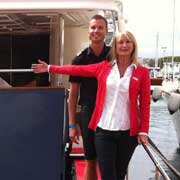 Jackie At Crewing the Med and Fort Lauderdale runs a service from her Durban based office offering assistance and advice with visas, itineraries, crew accommodation, crew registration for recruitment, ENG1, STCW offshore, bank accounts, C.V editing, contacts and other information. Students from other provinces have Skype appointments which are booked at their convenience. For more information contact Jackie on - Mobile: +27837773275 Skype: Jackie.feuilherade Website: www.crewingthemed.co.za Email: jax@crewingthemed.co.za
Posted by Roxanne Oschman
Happy New Year Everybody
January 06 2014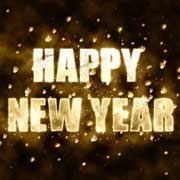 It's a full house today, PYT has officially opened its door for 2014 and we already have the STCW, 4 week, OOW and stewardess courses up and running. Its good to be back guys, 2014 is going to be a rocking year. HAPPY NEW YEAR :)
Posted by Roxanne Oschman
Happy Holidays All.
December 20 2013
PYT would just like to wish everyone a HAPPY festive season. Please note that offices are now closed today 20 December 2013 and will open again on the 6 January 2014. Merry Christmas and Happy New Year. PYT :) Safe travels.
Posted by Roxanne Oschman
Julius saves the day
December 18 2013
Julius Shittu was one of our STCW students recently. He sent us an email regarding an incident and by the sounds of things his Fire Fighting course paid off big time. Julius tells his story: I must say, I enjoyed the STCW course at PYT. Recently, I was face to face with a fire accident in church. Luckily I could tap from the vast knowledge Pete gave us during the Fire Fighting Course. I knew exactly what to do. I knew the class of fire and how to stop the blaze. I am so glad that I could prevent 35 cars from being burnt. Please forward this mail to Pete, tell him I was the only Nigerian in class, he knows me well. Thanks Julius for sharing your story. PYT
Posted by Roxanne Oschman
Crew Wanted!
December 17 2013
Location: Abu Dhabi, United Arab Emirates Position: Deckhand Yacht: Azimut 116ft Available: 28 February 2014 Contact: Send CV to Brayton at eastcoastscuba@yahoo.co.uk for more information.
Posted by Roxanne Oschman
Not sure what to do when you get to FT Lauderdale or the Antibes?
October 30 2013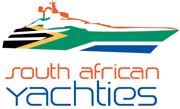 South African Yachties offers you all the information you need to get into the yachting industry! David and Samantha have been in the industry for over 8 years and have a huge amount of first-hand knowledge and experience. Have a look at their website on www.southafricanyachties.co.za and check out their Facebook page and give them a call to make sure you aren't left behind trying to find your feet when you get there.
Posted by Roxanne Oschman
Julian Chowrimootoo
October 25 2013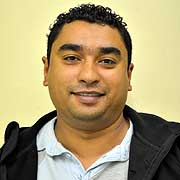 Julian Chowrimootoo from Mauritius attended PYT for the August 2013 STCW, 2010 safety courses.
Posted by Allen Bruning